Share this URL: https://som19paneldiscussion.peatix.com/
Event is FINISHED
A Fear of Monsters Revisited: Publication Launch and Panel Discussion
A Fear of Monsters Revisited
Publication Launch and Panel Discussion

Free admission with registration
Saturday, 6 July
1.30 - 3.30pm
Oldham Theatre

In the face of political breakdowns around the globe and an impending ecological apocalypse, horror, specifically monsters films have seen a renewed interest. More horror films have been made in recent years than ever before. On the occasion of our first ever publication launch from the State of Motion series, the Asian Film Archive is pleased to present A Fear of Monsters Revisited, a panel with regional film scholars, Bliss Cua Lim and Ekky Imanjaya, and artist Ho Rui An. Expanding on key themes from the State of Motion 2019: A Fear of Monsters exhibitions, the panel examines the monsters at the cross-sections of art and cinema as ciphers for the unarticulated complexities of history and the world we live.

From the zombie, the ghost to creatures of exploitation films, A Fear of Monsters Revisited focuses on the creatures that have embodied our existential fears and leap from our screens to both scare and entertain us. What does this appeal tell us about the societies we live? What kind of resistive cultural spaces do 'monsters' create? What do our beloved monsters tell us about ourselves and the histories that define us?

Speakers:
Bliss Cua Lim (Associate Professor of Film and Media Studies at the University of California, Irvine)
Ekky Imanjaya (Lecturer, Film Department, Bina Nusantara University)
Ho Rui An (Artist of State of Motion 2019: A Fear of Monsters)

Moderated by Kathleen Ditzig, Curator of State of Motion 2019: A Fear of Monsters

*PRE-ORDER*


Pre-orders for the publication will be available at an

exclusive 20% discount

at the panel discussion on Saturday, 6 July at Oldham Theatre!

Price:
$36 (U.P. $45)
Cash only
*Kindly note that this promotion applies to Singapore orders only. Collection will be at the Asian Film Archive office at the National Library Level 4.

About the publication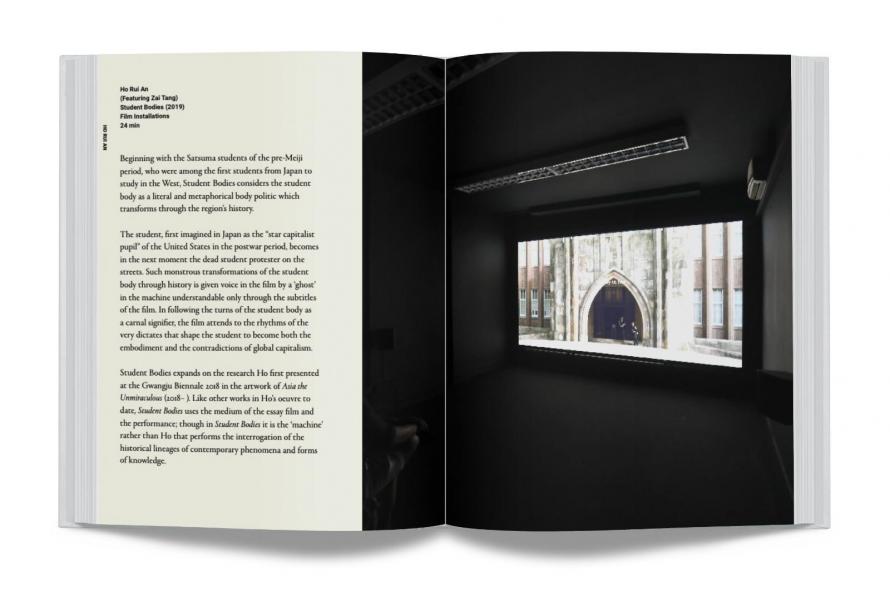 State of Motion: A Fear of Monsters contains the catalogue of the history and art exhibitions of State of Motion 2019. Packed with visuals, it documents the entire project, allowing readers to trail the exhibitions with the accompanying notes. The anthology of articles is a scholarly discourse that explores the monstrous and the horrific on national and international cinemas examined against the histories, art and cinematic production coming out of Southeast Asia.

With essays by Mary Ainslie, Nazry Bahrawi, Joshua Comaroff, Kathleen Ditzig, Marc Gloede, Ho Rui An, Ekky Imanjaya, Bliss Cua Lim, Roger Nelson, Toh Hun Ping, Abhijan Toto and Pujita Guha.

About the speakers


Image Credit: Eike Walkenhorst.

Ho Rui An (b. 1990, Singapore) is an artist and writer working in the intersections of contemporary art, cinema, performance and theory. He writes, talks and thinks around images, with an interest in investigating their emergence, transmission and disappearance within contexts of globalism and governance. He has presented projects at the Gwangju Biennale (2018), Yinchuan Biennale (2018), Jakarta Biennale (2017), Sharjah Biennial 13 (2017), Kochi-Muziris Biennale (2014), Haus de Kulturen der Welt, Berlin (2017), Jorge B. Vargas Museum and Filipiniana Research Center, Manila (2017), NTU Centre for Contemporary Art Singapore (2017), NUS Museum, Singapore (2016), Para Site, Hong Kong (2015) and Hessel Museum of Art and CCS Bard Galleries, Annandale-on-Hudson (2015). He is a recipient of the 2018 DAAD Berliner Künstlerprogramm. He lives and works in Singapore and Berlin.



Ekky Imanjaya is a lecturer at Film Department, Bina Nusantara University (Jakarta, Indonesia). He just finished his doctoral study at Film Studies in School of Arts, Media, and American Studies, University of East Anglia (Norwich, UK). His doctoral research is on the cultural traffic of classic Indonesian transnational exploitation cinema. He published both popular articles and scholarly publications, including in Asian Cinema, Jump Cut, Colloquy, Historical Journal of Film, TV, and Radio; and Cinemaya. In 2014, he guest edited a special issue titled "The Bad, The Worse, and The Worst: The Significance of Indonesian Cult, Exploitation, and B Movies" in Plaridel: A Philippine Journal of Communication, Media, and Society.



Bliss Cua Lim is Associate Professor of Film and Media Studies at the University of California, Irvine. She is the author of Translating Time: Cinema, the Fantastic and Temporal Critique (Duke University Press, 2009; Ateneo de Manila University Press, 2011). Her research and teaching center on cinematic and queer temporality, Philippine cinema, postcolonial feminist theory, and transnational horror and the fantastic. Her next book, The Archival Afterlives of Philippine Cinema, is forthcoming from Duke University Press.

About the moderator


Image Credit: Photo by Vanessa Ban.

Kathleen Ditzig is a researcher and curator, born and based in Singapore. In her writing, she interrogates and attempts to historically contextualise various contemporary forms and networks of cultural production. Through this research practice, Ditzig investigates the ways in which individuals, collectives, institutions, and states have asserted their agency in relation to one another, as well as to the region, and the international. Ditzig's art historical research on Southeast Asia has been published in Southeast of Now (NUS Press, 2017), as well as presented at international academic conferences and platforms, and published in three different languages. Her writing has also been published in magazines including Artforum, Art Agenda and Flash Art, and in books including Perhaps it is High Time for a Xeno-Architecture to Match (Sternberg, 2018).

Ditzig's curatorial practice has previously involved the development of artist residencies, publications and exhibitions for museums, as well as independent exhibitions for emerging artists. Her ongoing independent curatorial projects, such as offshoreart.co (developed with Robin Lynch and Debbie Ding), have been presented on international platforms including the Berlin Biennale. Ditzig also works with Studio Vanessa Ban on External Assessment Summer School, Singapore's first independent art and design summer school.

Ditzig holds an MA in Curatorial Studies from CCS Bard (New York, 2016) and is currently pursuing her PhD at Nanyang Technological University's School of Art, Design and Media.



State of Motion 2019: A Fear of Monsters investigates the histories and trajectories of Asian horror and focuses on the monsters at the intersections of Southeast Asian art, popular culture and cinema.

From the multilingual Pontianak to the genre defining oily man who seeped his way across borders, monsters have entertained and united us through our fear. Audiences should be very afraid.

This programme features film screenings from 7 June - 21 July. Get tickets from $6 now!

Getting to Oldham Theatre
Address: National Archives of Singapore, 1 Canning Rise, Singapore 179868

By Bus
Armenian Church 04142: 2, 2a, 12, 12e, 32, 33, 51, 61, 63, 80, 197
Old Hill Street Police Station 04223: 124, 145, 147, 166, 174, 174e, 190, 851, 851e

By MRT
A 5-minute walk from City Hall (Exit B), Clarke Quay (Exit E) and Bras Basah (Exit D/E)

Parking is available at:
Registry of Marriages (ROM)
Fort Canning Park
The Bible House
Singapore Management University (SMU)










read more
Updates
The event description was updated. Diff#450336

2019-07-04 05:27:46
More updates
Sat

Jul 6, 2019
1:30 PM
-
3:30 PM
SGT
Add to Calendar
Venue
Tickets

| | |
| --- | --- |
| A Fear of Monsters Revisited - Free Admission | FULL |
Venue Address
Organizer
Want to find more groups and events like this?